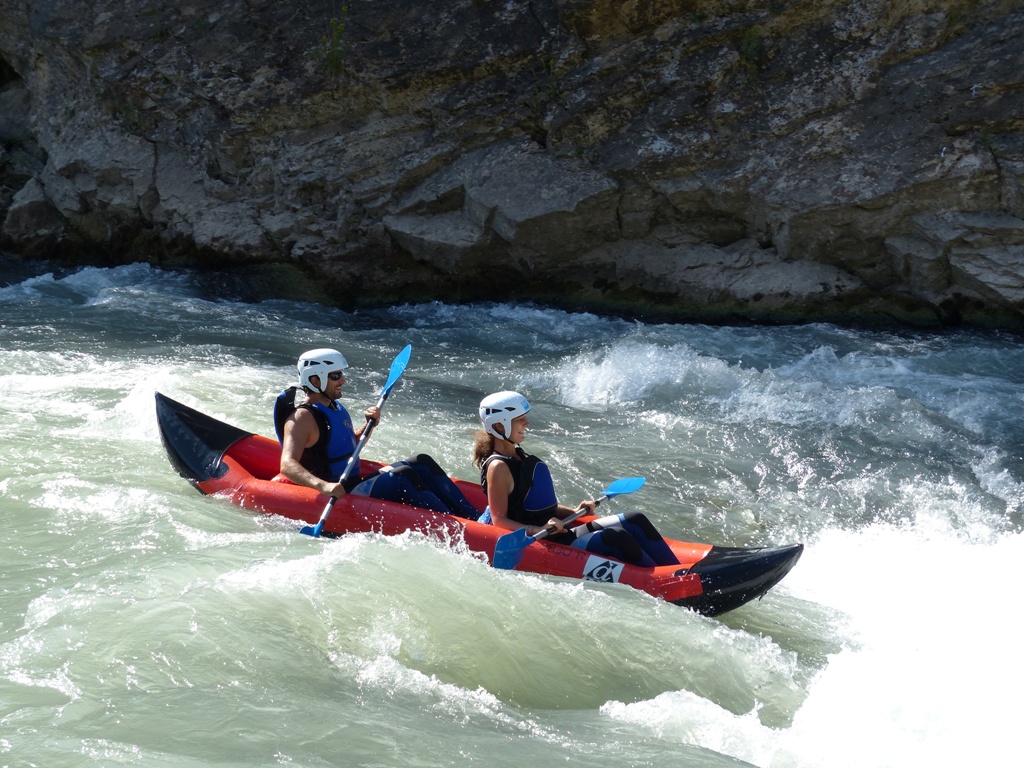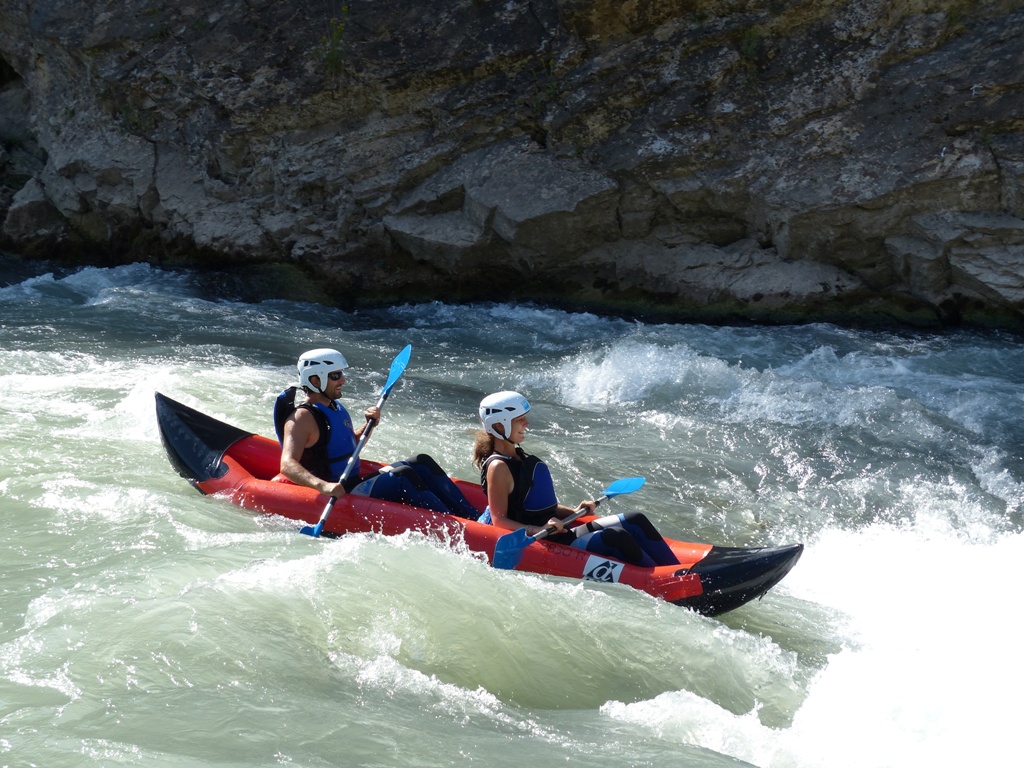 Fun, challenging, and exciting, the canoraft adventure activity (which could be called "rafting in pairs") consists in going down the upper part of the Gállego River in a double (canoraft) or single boat (inflatable kayak).
The boat is inflatable and unsinkable. With the advice of your guide, who will be aboard an independent kayak, you'll go down the 8 kilometres of river waters, avoiding rocks and facing the waves. Adrenaline will rush into your veins at the rhythm of the current!!!!  To enjoy this activity, and for your own personal security, it is essential to have previous canoe paddling or kayak experience.
Central of Carcavilla to Murillo. 7 Km of descent. 2h à 2h30 in the water. Rapids of level class II and III. From 16 years old. From may to september.
Requirements
You must know how to swim and not be afraid of heights; check the age limit in "Difficulty Levels".
Activity
Rates
Precio por persona según participantes
Booking online
1 a 6
7 a 14
15 a 21
+ de 22
CANORAFT
(canoeing level III)
Adult
47.00€
44.65€

Book online
Canoeing
Canoraft level III
Price per person (+16 yars old)
1 to 6 people: 47,00 €
7 to 14 people: 44,65 €
Book online
Current taxes according to the hired service.
For water activities (except canyoning and via ferrata): Transport from the activity centre to activity location. 
For all activities: use of our facilities including changing rooms with showers, specific material for each activity, and professional guide and instructor service. 
Initial medical assistance coverage for activity participants.
En virtud de la Ley Orgánica 15/1999, de protección de datos de carácter personal, se le advierte que sus datos personales se incluirán en un fichero cuyo titular y responsable es UR RAFTING S.L.L. Los datos señalados con asterisco son de cumplimentación obligatoria para el cliente, en caso de no ser facilitados, UR RAFTING S.L.L. no podrá prestar al cliente los servicios. La finalidad del tratamiento de sus datos será la gestión comercial solicitada en este documento. Podrá ejercitar los derechos de acceso, rectificación, oposición y/o cancelación de sus datos, dirigiéndose por escrito a UR Rafting SLL, Ctra A132 – km 38, 22808 MURILLO DE GALLEGO o email: info@urpirineos.es